Who here still hasn't heard of Game of Thrones? There is no such person, right? Why do you think that is? Is it that good of a TV show? Are the books upon which it is based just that well written and engrossing? No offense, but…
It's just good marketing, people!
We came across a lot of confessions online stating that folks only started watching Game of Thrones after hearing over and over again that it is the most pirated TV show of our day. Therefore, it is under a big question mark whether it has actually merited such popularity solely on quality. After all, there are better TV shows out there.
But, we are not here to discuss cinematographic tastes. If nothing else, GoT has shown us how to properly advertise a product (or a brand, if you will) and that is what we will focus on today.
Let's see the 5 marketing tips we can all pick up from Game of Thrones.
1) Keep up with what is popular
One of the pillars of quality content marketing is creating evergreen blog posts or marketing campaigns which can be used again with only a little bit of tweaking. However, let it be on record that when something is popular and everyone is talking about it, a good marketer should get in the conversation. Everyone has something to sell, so get on the bandwagon and use it to your advantage.
Yes, someone might accuse you of exploring the hype, but if you do it right, you will reap the benefits of aligning with a massive trend. Don't think of it as taking advantage. If a particular sentiment portrayed in Game of Thrones fits what you are trying to say to your customers, why not use it (and give credit, of course)?
Use the words and the visuals that have already resonated with your audience – that can never be a bad thing!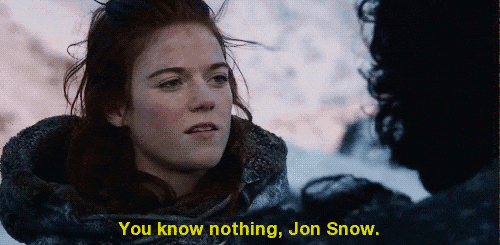 (More on how to talk to a target audience read in one of our previous blog posts.)
2) Use social, people!
How do you engage your audience? We bet most of you will say that you use Social Media platforms for that. But, do you use all of them? Or, at least, all the major ones? If you don't, there is no time like the present to get started! Don't restrict your SM game to just one or two channels, because you cannot count on your target audience using the same ones you do. Even if they do, Facebook and Twitter do not have the same things to offer neither you as a marketer nor them as someone you market to. If they did, one would run the other out of business.
Here is another question for you. Do you use the same content on all the SM platforms you use? Think about it and step up your game if you do, because you are not reaching your full potential in the answer is yes. The GoT marketing team uses different channel strategies to promote the show on various Social Media.
For example, HBO decided to use Facebook Live to reveal the season 7 premiere date by asking their followers to watch a simple block of ice melting. Even though there were some technical difficulties, 162,000 people stuck around for the reveal. That is some reach, right? Moreover, HBO and Snapchat revealed a new selfie filter making users look like White Walkers or allowing them to kill one with a dragon glass dagger. All the while, people were encouraged to share their snaps on their Twitter profiles.
Game of Thrones has always had a strong presence on Twitter inviting their followers to share their favorite GIFs and lines from the show, to participate in character-centered campaigns (#RoastJoffrey or #YouKnowNothingJohnSnow), or to share real-life Game of Thrones events from all over the world. Whether the people wanted to brag about an amazing thing that happened to them that day or to just be part of a worldwide phenomenon, the trick worked. Suddenly, the Twitterverse was flooded with pictures of the #ArtTheThrone exhibition or White Walkers in London – ordinary people and fans of the show coming together on Social Media to speak for the show and about something they value.
Smart, right?
3) Build up the suspense
If you have something great in store for your audience, don't reveal everything at once. Use just enough to keep them intrigued and on their toes. Marketing is a long game, after all. Plan ahead and stick to it.
Moreover, have you ever noticed that Game of Thrones never really leaves our Social Media feeds? There is always something going on in the land of Westeros and they don't want us to forget. For example, in anticipation of season 7 premiere, HBO took to Twitter to ask followers how they plan on welcoming winter using #PrepareForWinter and references from the show. Needless to say, they've created the hype with just that one brilliant move.
Work that angle, too! Give your audience just enough to come back for more.
4) Create aesthetically pleasing content and put it front and center
People are readers, sure, but in this modern day and age, not many have the patience to wait for you to get to the point. You have to be fast and direct when trying to reach your potential (or even existing) customers if you want to sell them anything. What better way to do that than by employing visual means?
"A picture is worth a thousand words", someone very wise once said. So, create a picture to go with your content! And not only that – create a beautiful picture!
We are all attracted to beautiful things, and that stands even for our Social Media feeds. A striking, colorful visual will always catch our eye, which is exactly what the GoT marketing team is counting on when doing their magic. In anticipation to every season (or even episode) premiere, one or more amazing pictures are released to tickle the public's imagination. It is always something heavily alluding to a character being in an unexpected situation, but actually revealing nothing concrete.
Clever, right? Well, it wouldn't be so effective if it wasn't. And effective it is, because SM reach increases 2-3 times when you use pictures in your posts. So, don't be lazy and get to work!
5) Inform and entertain
When we say inform and entertain your audience at the same time, some of you might feel daunted by such a task and rightly so! It is never easy to educate a person, but to do it without their realizing it (or simply focusing on the educating part) is that much more difficult. Thus, you might ask yourself what is the proper way to go about it. Well, let's see what Game of Thrones does, shall we?
Before season 5 started airing, GoT took to their Facebook page to remind their audience of that as well as give them a montage of some of the best lines for the show with a simple message: "1 week. #GoTSeason5". Or, they take their followers behind the scenes to give them a closer look at costumes:
or special effects:
These particular tactics are pretty common nowadays in promoting movies and TV shows because it has proven very effective. People always want to know one more piece of information on why something is done or how it is made, so give them that and they will feel closer to you and whatever it is you are selling them. Sometimes, the simpler the approach the better the effect it has.
There it is, our two cents on how to do marketing like the big dogs, but what it all comes down to is this: be active on Social Media in various shapes and sizes and to give your audience not only quality content but also relevant. Every tactic we have mentioned here has proven effective because it well thought out and as such reflects the fact that you can't advertise something just for the sake of it, but because you know what your followers want to see, hear and experience both in real life and on Social Media. When you have that kind of knowledge, you have the power to do almost anything. So, get to know your target audience and get creative in your interaction with them.
We would like to hear from you in the comments below or just contact us if you want to have a chat about taking your business strategy to the next level.